Descendants of Christopher & Charity Drake
(née Parker) of Iddesleigh, Devon
A
A
A
scale page

From: Barry Carlson 

Date: Saturday, 5 July 2003 3:33 PM

Date: Thursday, 25 June 2020 7:45 AM  UPDATE

Christopher DRAKE b. abt 1761 Devon, m. Charity PARKER (bpt. 12 Feb 1767, Iddesleigh, Dev.) the youngest daughter of Bartholomew & Ann PARKER (nee KEYNOR) at Iddesleigh on 4 April 1786. The children of this couple were as follows:-
Mary DRAKE bpt 1791, Broadwoodkelly
Charity DRAKE bpt 1792, Broadwoodkelly
Humphrey DRAKE bpt 1797, Monk Okehampton
William DRAKE bpt 1801, Broadwoodkelly
Bartholomew DRAKE bpt 1804, Monk Okehampton
Elizabeth DRAKE bpt 1807, Monk Okehampton
Thomasin DRAKE bpt 1809, Broadwoodkelly
Bartholomew DRAKE m(1) Joanna Snell (b.1810, d. abt 1833) at Sampford Courtenay on 26 Dec 1827. The children of this couple were;
James Snell DRAKE bpt 1829, Broadwoodkelly
Bartholomew DRAKE bpt 1831, Broadwoodkelly
Bartholomew DRAKE m(2) Frances LUXTON (b.1814) at North Tawton on 5 March 1835. The children of this couple were;
William DRAKE b. 1835, Zeal Monachorum
Thomas DRAKE b. 1837, Zeal Monachorum
Edwin DRAKE b. 1838, Zeal Monachorum
George DRAKE b. 1841, Zeal Monachorum
Francis DRAKE b. 1843, Coldridge
Emanuel DRAKE b. 1846, North Tawton
Elizabeth DRAKE b. 1847, North Tawton
Elias DRAKE b. 1851, North Tawton, d. 1922, Dunedin, NZ
Ann DRAKE b. 1852, North Tawton
Emily DRAKE b. 1857, North Tawton
Henry DRAKE b. 1859, North Tawton
Elias DRAKE m. Emma BATE (b. 1850 Tormoham, d. 1933, Dunedin, NZ) at St Marychurch, Torquay in June 1873. The children of this couple were;
Rosa DRAKE b. 1874, Torquay, d. 1976, Dunedin, NZ
Sidney George DRAKE b. 1875, Torquay, d. 1958, Gisborne, NZ
Ada DRAKE b. 1878, Torquay, d. 1942, Invercargill, NZ
Elias Henry (Harry) DRAKE b. 1880, Torquay, d. 1963, Dunedin, NZ
Emma Beatrice DRAKE b. 1883, Horfield, Bristol, d. 1883 (6m 9d), Hobart, Tasmania.
William Tasman DRAKE b. 1884, Tasmania, d. 1946, Hastings, NZ
Francis Victor DRAKE b. 1887, Ballarat, Victoria, d. 1941, Dunedin, NZ
Ernest Winfred DRAKE b. 1890, Westbury, Tasmania, d. 1958, Auckland, NZ
Emanuel Oreti Bartholomew DRAKE b. 1893, Invercargill, NZ, d. 1975, Auckland, NZ
The family of Bartholomew DRAKE moved from North Tawton to Torquay in the mid 1860's and Elias DRAKE (a carpenter) took his family to Turnpike Lane, London in 1879 during the huge construction phase associated with the Industrial Revolution. Henry BATE (Emma's brother) and his family were in the same part of London during the 1881 census. In 1883 Emma Beatrice DRAKE was born in Bristol. This was where Emma DRAKE's brother Henry BATE and his family normally resided. Following the death of his father in the same year, Elias DRAKE and his family, along with Henry BATE's family emigrated to Hobart, Tasmania on board the SS "Cape Clear".
The DRAKE family later spent a short period in Ballarat, Victoria before they moved back to Tasmania and then on to Invercargill, New Zealand in 1892/3. They finally settled in North East Valley, Dunedin around 1895.
The BATE family moved on to Melbourne, Victoria and settled there, except for their son Henry Frank, who settled eventually in the North Sydney suburb of Manly, New South Wales.
The accompanying photograph of "The DRAKE Family of Musicians" circa 1900 Dunedin NZ, was the only clue my partner Georgina Mary DRAKE had to her past. The person playing the Bass was her Grandfather (Sidney George DRAKE) and his other siblings are:- Back Row.. William. Seated.(L to R).. Harry (Elias Henry), Ernest, Rosa, Emanuel and Francis.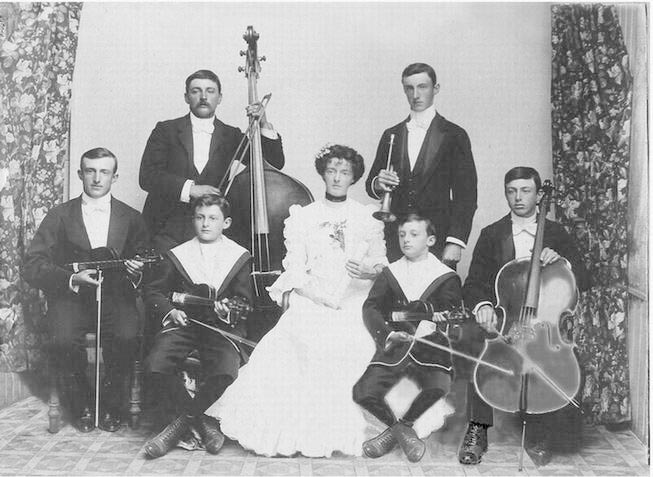 The sad thing is that there has been no contact with the families of Sidney's siblings for over 50 years. Someone out there will have seen a copy of this photo and know who they are, and perhaps contact will be made again.
UPDATE: June 2020 - Contact has been made in recent years with descendants of William Tasman Drake, Rosa Drake, and Ernest Winfred Drake. Also, have received a large framed photograph of Ivy Maud Metcalfe taken on her wedding to Emmanuel Oreti Drake, which was found in an Auckland secondhand store and kindly donated by the lady finder. Some of the details described above have been added to, or adjusted to reflect changed information.
Regards..
Barry Carlson
New Plymouth, NZ